Domain
RESIDENTIEL HOUSE
WITH VIEW OF THE RIVER
Petite-Rivière-Saint-François is a quiet village along the Saint Lawrence River. It is the oldest place of settlement Charlevoix since settlers arrived from 1675. Some days, we can even see the small village of St-Jean-Port-Joli on the other side of the bank. On the river, some islands allow themselves to be contemplated. In height, the ski center Le Massif tall and proud in the coldness of winter that greets you.
Come enjoy nature and watch the boats. Let yourself be rocked to the rhythm of the tides and seduced by the charm of flamboyant colors that change with the seasons. The majestic snow capped mountains lining up out of sight will amaze you.
LOCATED IN THE MUNICIPALITY OF PETITE-RIVIERE-SAINT-FRANCOIS,
POINT OF INTEREST (KM)
Parc National des grand-jardins

NEW PHASE 4
OUR LOTS HAVE A MINIMUM AREA OF 55 000 SQUARE FEET AND ARE ALL LOCATED ON THE SIDE OF THE MOUNTAIN AT PETITE-RIVIÈRE-SAINT-FRANÇOIS NEAR QUEBEC CITY AND BAIE-SAINT-PAUL
LOTS FOR SALE
22 lots for locatives houses
23 lots for residential houses and cottages
| | | | |
| --- | --- | --- | --- |
|  Phase | Date | Number | Sold |
|  Phase 1 |  Autumn 2004 |  45 lots |  All |
|  Phase 2 |  Autumn 2006 | 27 lots | All |
|  Phase 3 |  Fall 2012 |  14 lots |  4 |
|  Phase 4 |  Summer 2020 |  25 lots |  21 |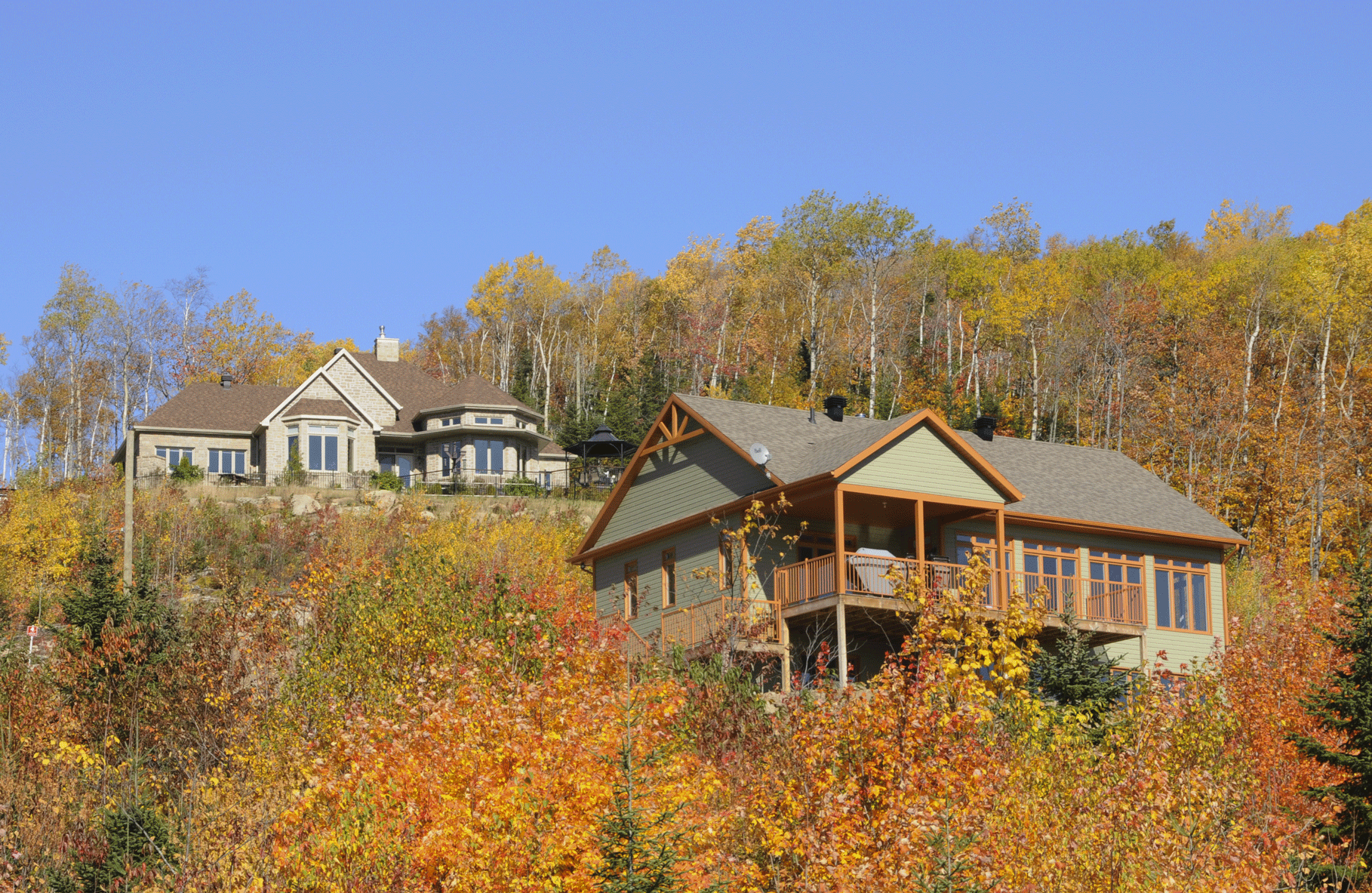 THE STYLE OF REAL
ESTATE DEVELOPMENT MULTIS-BOIS DOMAIN
Whether for an upscale single family residence or semi-detached one-storey or two, the Multis-Bois Domain is a sought for a second home or a rental project. It responds to architectural criteria to harmonize the constructions, providing construction flexibility for all tastes and to suit all budgets. Accessory buildings are allowed according to municipal regulations.
The development is intended to be conscious about the neighborhood integrity. Owners must conform to the design and construction guideline to preserve the integrity of the whole project.
Consultés les spécifications
Publi-reportage (PDF) de l'hebdo charlevoisien